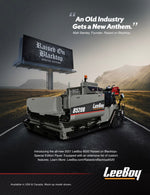 What it Means to be
"Raised on Blacktop"
This is not a story about business, but how you go about your business. It's about grit, family and character revealed. In an age of globalization and big business, the family paving business is a long-founded, rooted tradition and it has never been stronger.
You Don't Choose the Business - It Chooses You
The paving industry is raw.  It's about finding out who you are.  It beats you down only to build you back up. Joining the family paving business isn't something you do, it's who you are. 

"I started working in the business when I was 12. My job was to paint everything he made. I'd go to school during the day then come home and start painting and work into the night," said Mike Lee. His younger siblings, Eric, Keith and Sissy have similar stories. You get into this line of work because, before you could walk, it was all you knew. Your Dad brought home with him at night, the smell of asphalt on his clothes. On the weekends, your Mom took over the dining room table—payables on one side, receivables on the other. Thrive or starve, you did it as a family. 
Focusing on the Ultimate Concern
The key to the definition of grit is having what some call an "ultimate concern." For the thousands of family-owned paving contractors and equipment dealers across the country, that ultimate concern involves passing on their values of family, work ethic and independence to the next generation. 
"My father didn't raise workers, he raised entrepreneurs," said Bill's son, Matt Stanley. "My brothers and I knew that, even if we didn't go into the paving business, we needed to learn how to work hard. You can take that trait into everything you do. And that was a family staple around our house,"' Matt said.
An Old Industry Gets a New Anthem
For those born, or pulled into the business, the fast-paced life of paving often "feels like you're going into battle," says Matt. And now, these road warriors have their own rallying cry. Raised on Blacktop® began as a mantra Matt and his brothers proudly displayed on their shirts and social media. Matt created it as a way to tap into the pride and passion of others like him, his brothers and Charlie. It didn't take long before this lifestyle brand went viral.
Today, Raised on Blacktop is a full-throated industry anthem, that is transforming the sweat, grunge and grit of asphalt into a badge of honor. "We're making paving sexy," Matt explained. "It's a dirty job, but an honorable one and it's our mission to elevate hard work and dedication. We've learned that by conducting ourselves in a professional manner and by keeping a clean, reputable image, we're quickly becoming notable ambassadors for the industry and changing the way it's viewed – even by outsiders."
The Movement Gets its Own Machine
As with any true movement, Raised on Blacktop has no shortage of merchandise to help promote its cause. The online store features shirts, hats, decals and even baby onesies. As of February 2021, it will be able to add the biggest (and most expensive) promotional item to date—a special edition Raised on Blacktop paver from LeeBoy.

The machine is a tricked-out LeeBoy 8520B heavy-commercial asphalt paver. The base machine features a 9-ton hopper, above deck generator, increased fuel capacity, front adjustable conveyor chains and ultra-efficient slow-moving wide conveyor system. To this, LeeBoy engineers have added a few bells and whistles that pay homage to the Raised on Blacktop crowd. 


The package includes an exclusive gray paint scheme, a stylized Raised on Blacktop decal, carbon-fiber embellished wing decal, a larger American flag decal and red operators' seats embroidered with the Raised on Blacktop logo. This paver will also be equipped with a variety of custom features including a weather-proof ticket/phone box, various shovel/rake carrier options, engraved serialized badge and a custom lighting package.